Journey through the Lofoten
Journey through the Lofoten
Towering white massif spanned across our sight, punctuated with little red houses and biege-coloured buildings. Occasional wooden racks rose into view, packed and laden with produce. The scenes from within our car windows were a white surreal landscape - a winter wonderland.

We had just picked up our car from Svolvaer, the capital of Lofoten, an archipelago or group of islands in Arctic northern Norway. It was mid March, so spring was supposedly not far away, but the weather and scenes were anything but.

"We have a colder than usual season here, and it shouldn't be like this at this time of the year!" claimed the very helpful staff at Svolvaer's visitor information center.

In fact, the Lofoten islands are a perculiarity in the Arctic North. Being on par in latitudes with places like Siberia and Alaska, it's winter average temperature is a balmy -1 degrees Celsius, thanks to its proximity to the Gulf Stream. But our timing was rather unfortunate - coinciding with the cold spell sweeping across the northern hemisphere world over. It was -6 degrees Celsius on our day of arrival. Luckily, my recently purchased winter jacket from MontBell proved to be a wise choice. Skeptical of its synthetic materials, but in-love with its lightweight and easy maintenance, I am pretty pleased that it kept me comfortable!

As we drove to the village of Henningsvaer, we couldn't help ourselves but to just ooh-and-aah constantly along the way. As tropical urbanites, images of little villages among pictureque winter mountain and coastal settings easily ilicit such responses. But unbeknownst to me till I planned for my trip, I had actually been "exposed" to this wondrous location when I was but a child.


Views reflected @ Visitor Info Centre @ Svolvaer
Surreal White Landscapes
Winter Wonderland!
Henningsvaer is a fishing village spread over a collection of isles and islets. It is connected to the rest of the island groups by bridges only in 1981, and so the size of the village and its architecture had not changed much. Now, colourful wooden cabins decorate the town, and is the artiest village in the archipelago. We couldn't quite get a cabin as most of them operate only during summer or prefer to only accomodate weekly rentals instead of a day or two. So we settled for a sort of a boutique hotel just by the quayside.
While not as popular or well-known, the Lofoten islands are great hunting ground for the Aurora Borealis, or Northern Lights. Being well above the Arctic Circle, and with little light pollution, the possibility of a sighting is no less than other more famous sites. And this was one of my main reasons for this visit.
| | |
| --- | --- |
| Colorful Cabins @ Henningsvaer | |
Come 9pm, we drove barely 3 minutes out onto the edge of the islet where we deemed dark enough and waited. All seemed dark at the sky front, except for the million twinkling stars.
"Look!" I exclaimed.
"Do you see that faint greenish smear?" I asked K and C.
"Is that *really* the northern lights??" K replied, with a tinge of disbelief.
I affirmed the sighting, reviewing my digital camera image, which displayed the greenish lights clearer because of a longer exposure. Of course, it was somewhat of a letdown, as compared to the images are videos we've seen. We waited past midnight for a stronger display but luck was not on our side.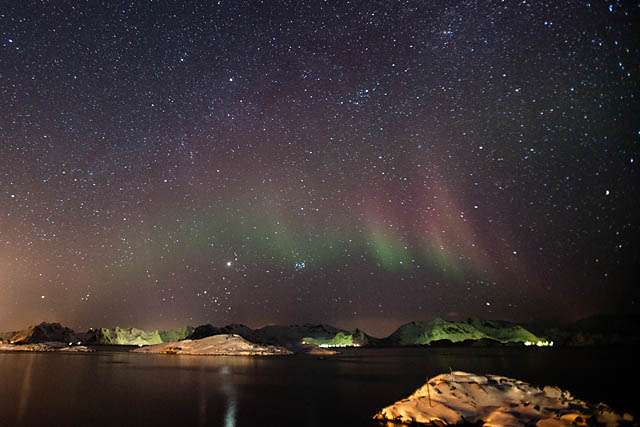 Faint but pretty Aurora Borealis!
Village beneath the Mountains!
| | |
| --- | --- |
| The next day saw us driving to our next village, where we had prebooked our robu, or "Fisherman Cabin". In the words of Gro Røde and Ottar Schiøtz in their book "Guide to the History of Lofoten", the area around Lofoten is also known as "the world's biggest maternity ward". Every winter, the Norwegian Arctic Cod makes its way here to spawn. In the days of old, fisherman from all over the country would congregate to the Lofoten islands for the massive catch. Many cabins were thus built to accomodate these visiting fisherman, and today, most of these cabins had been converted to holiday accomodations for tourists. | Inside a robu! |
Today, the Lofoten is still the world biggest cod fishery, and stockfish is the islands' predominant industry. Stockfish are unsalted dried fish and the special weather conditions on the islands make it especially condusive for its production. The air must not be too dry and the temperature low enough so that the fish is not ruined by maggots and flies. At the same time, it must be warm enough so as to avoid freezing. It is probably the world's most eco-friendly food preservation process, with nothing but "fresh air". And of course, when we first pulled into Sakrisoy, the island where our robu cabin is, the first thing that greeted us were rows and rows of fish hung onto wooden racks.
Lofoten is the world's biggest cod fishery!
Stockfish being left to dry!
"These cabins and the island have been in our family for generations!" explained Michael, the young owner of Sakrisoy Robuer.

"Aside from renting these robuer, we produce a lot of stockfish. In the morning, the fisherman come back with their catch, and we buy the fish direct from them. The fishes are left to dry until summer, where when ready, they are exported to Europe, mainly Italy."

"What about cod-liver oil?" I asked.

I had learnt that a certain Alfred B. Scott had sourced cod-liver oil from the Lofoten, and in 1876 started a company selling "Scott's Emulsion". And it was this product that many tropical Singaporean children in the late 1900s had their first "taste" of something from Arctic Norway. Of course, many of us at that time (me at least) knew not where Norway is, let alone what Arctic is. And that this strange tasting concoction is a supposedly palatable version of the real cod-liver oil.






Modern day Scott's Emulsion
"Oh, I remember when I was young, my mother would feed it to us, and I would scrunch up my face in disgust always!" reminisced Michael.
Deja vu certainly, as I had never really enjoyed my dosage all those years. I shudder to think what the *real* cod-liver oil taste like. Today, there is still a cod-liver factory at Å (pronounced Aww), a village right at the southern tip of the island group. But whether Scott's Emulsion still came from Lofoten's cod livers were beyond me, and cod-liver oil is certainly not in our interest now. However, cod for dinner certainly is! After settling so comfortably into our cabin, we had to tear ourselves away to look for our dinner.
Amazingly, the only restaurant opened within our vicinity and the closest village of Reine were out of cod. Our disappointment were somewhat shortlived as the whale steak on our menu demanded for our attention and anticipation. It turned out that it tasted like a whole thick slab of grilled liver, and we couldn't quite finish it. Thankfully, the other fish dishes were fabulous, which somewhat made our meal worthy of its price, considering how notoriously expensive Norwegian meals are.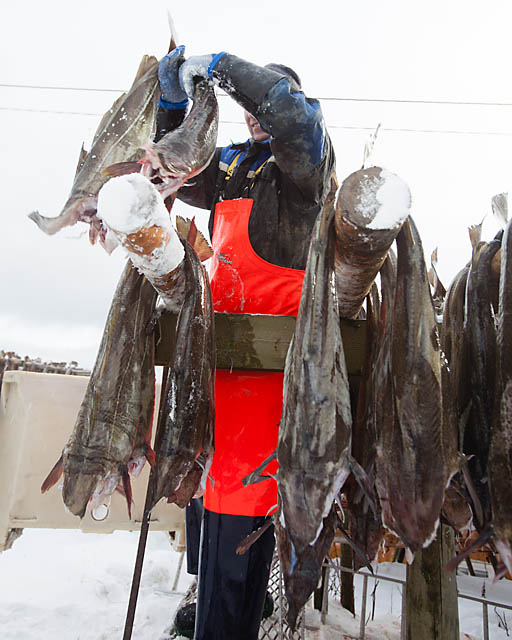 Workers hanging up the cods!
Our icicle-lined Cabin
Cabin with a view (of icicles!)
The night started with an island-wide power outage, that would have been welcomed news for an outing for Aurora sightings. Except for the uncooperative weather, who decided to mask the sky with a huge cloud cover. In any case, three of us were knocked out soon after the tiring past few days.
Winter in the Lofoten islands yielded slow lazy days. Many galleries, restaurants, attractions were closed, and even the Viking museum were not opened (or limited opening hours). But driving along the main E10 highway, visiting the various villages and just enjoying the scenery were our intended itinerary anyway.
It was our final night at the Lofoten islands before catching the ferry at Solvaer to Tromso further north. The Hurtigruten is a cruise ferry starting from Bergen at the south and ending at Kirkenes, right at the northern end of mainland Norway. The 6D6N journey is a very popular and famous Norwegian fjord cruise trip, and it makes some stops at the Lofoten. Enjoying a partial cruise would be an excellent way for us to say goodbye to this beautiful area. All that was missing was the Northern Lights.
As we drove onto the bridge leading into the pretty village of Reine, we were somewhat caught off-guard. Between the towering mountainscapes, and above the lighted houses of Reine, a green glow wavered across.
Northern Lights over Reine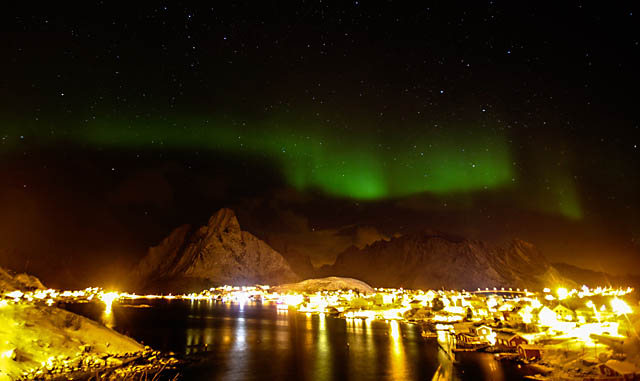 Northern Lights over Reine
"Yes! Yes!" I exclaimed, fumbling and setting up position hastily.
The lights danced across, intensifying and fading, stretching and compressing like an accordion. Finally, K and C had a "proper" sighting of the aurora, and we eagerly waited for more. The winds were brutal, and we retreated into the comfort of our car. We watched as our tripod trembled and our camera straps flapped wildly in the winds. The display came and went on whim, but alas, the best display was the initial five minutes.
Still, there was little to complain as we had completed our objectives of coming to the Lofoten islands. And especially since we also had a wonderful cod meal just before stumbling upon this wonderful sighting!
| | |
| --- | --- |
| Testing the Snow! | Adorable kindergarten girl in Reine |
Reine
---
Photos & Text &copy 2013 Wu Swee Ong